It's time for another Headshot Day!
We're setting up shop again in Chicago's Ukrainian Village for an afternoon of studio headshots. Four 30-minute slots are available (12:00, 12:30, 1:00 and 1:30pm), and the session fee of $165 includes digital files. 
Why a headshot? It's time to put your best face on your online presence, whether that's a professional one or a personal one. These studio sessions are a great way to get a photo you can use for LinkedIn. Remember that it's a competitive job market out there, and investing in a good quality photo is an investment in your career!
While you're checking your calendar for April 2, here's a tip for you related to what to wear for your headshots: avoid black.
Sure, the "little black dress" is a wardrobe staple, but the truth is that black attire–and in the case of headshots, a black jacket or top–makes almost everyone look washed out in photos.
So, what can you do to look your best?
* Wear a sportcoat/suit/blazer/sweater/etc. that is not black. Excellent color choices for a professional look include navy, gray, deep purple. If you're in a more creative field, jewel tones work well for most.
* Wear some color around your neck, such as a scarf or substantial jewelry.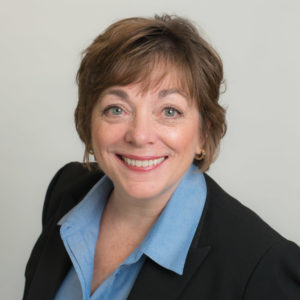 * Wear a collared shirt styled so that you can wear the shirt collar above the jacket collar. This photo of Jo is a perfect example of this style.
Join us on Sunday, April 2 for Headshot Day! Four 30-minute session slots are available at $165 each (includes digital files). Book your session now–select "Headshot Day (Studio): Sunday, April 2, 2017" as your service.
Interested in a studio or outdoor session on a different date? Send us a note to discuss your options! We're also available for group headshot sessions for management and full staff teams, sports teams (including bicycle racing!), and networking events, to name a few! Contact us for more info.