Hi, friends from marginalized communities, and especially my Black friends. I've been quiet, but I see you, and I see your pain. I condemn racism and hate in all its forms, and I am committed to showing up for you in the way that is most helpful for you.
I am listening. I am reading. I am asking questions. I am checking my sources (CHECK YOUR DAMN SOURCES, FOLKS). I am checking my privilege, but I don't believe that process of self-exploration deserves any airtime here. White people have a lot of work to do, but my voice is not the one that needs amplifying right now.
Do not mistake my silence on any online platforms for complacency or inaction. We are all tired (#thankspandemic), and we need to make smart choices about where we invest our limited supply of resources and energy for maximum impact. For me, that choice is to engage offline with tangible actions that fuel meaningful change. Offline conversations are more valuable, too, where nobody can hide behind a keyboard. Please know I'm available to listen and engage, and offer support.
The only thing I really have any authority to speak about right now is photography, so I will take this opportunity to say something on that subject.
My work has always been about telling stories, relentlessly pursuing truth and justice, and also prioritizing authenticity. The business name Tipping Point Photography came about because I believe that photography has an important role to play in fueling social change. Photos can be the thing that changes the direction of a movement, and can be at the apex of a turn in social momentum.
The pair of photos included here is from a January 2007 visit to the Lower Ninth Ward in New Orleans. This was about 18 months after Hurricane Katrina devastated the neighborhood. I was in town on a business trip unrelated to photography, but my higher priority was gathering stories from the people and the debris left behind, with the goal of sharing a more accurate picture of what happened to the community.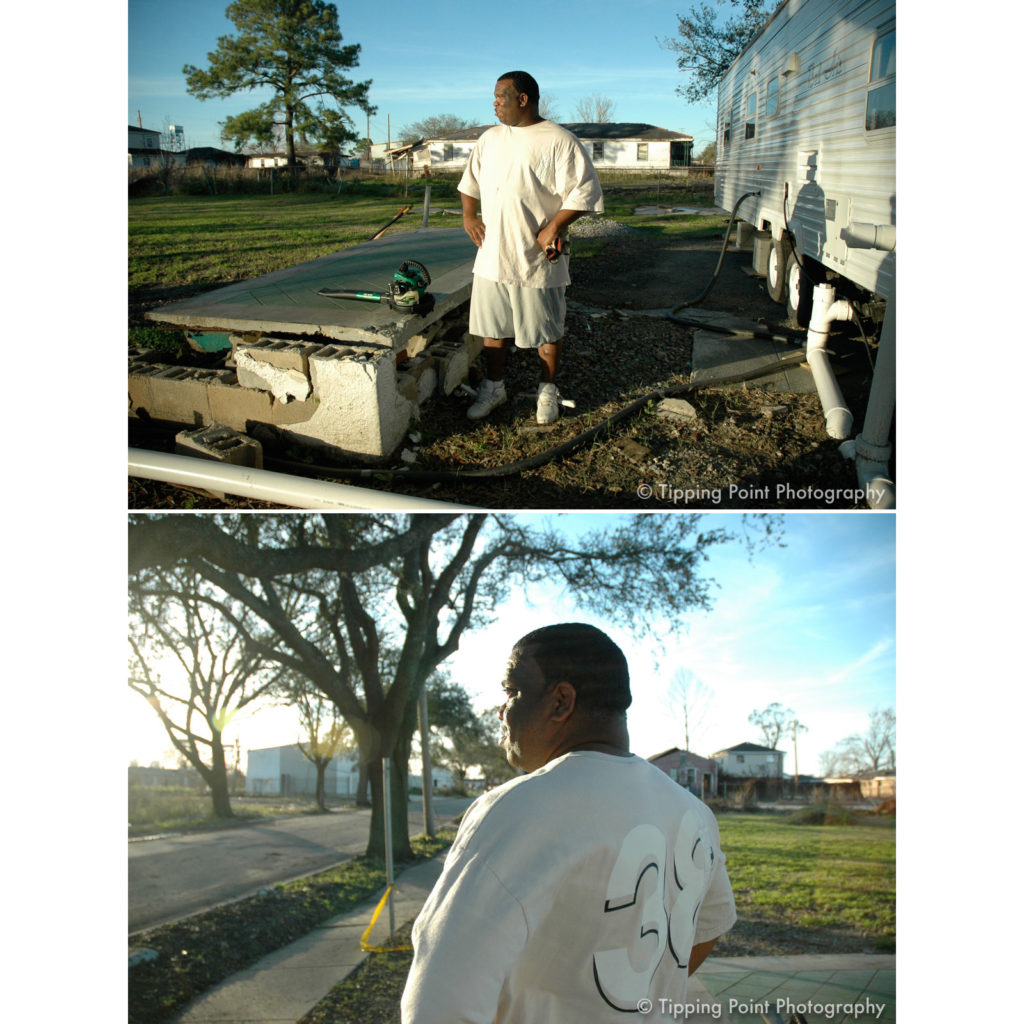 What I recall of this gentleman's story: he was living in a FEMA-provided Bel Air trailer. That pile of cinderblocks and concrete in front of him is what remained of the front porch of his home. He had been at home when the water came rushing in. I recall him saying that he had a boat in his driveway, which he used to safely evacuate himself. He was very clear about his determination to rebuild.
I felt hopeful then, but today I feel profound sorrow about the systemic issues that brought about this devastation—issues that persist to this day. I've observed that the Black community is resilient, but it is not right or just to rely on that resilience instead of doing the hard work of dismantling broken systems that privilege white people.
To that point, I'm going to keep looking for opportunities to document stories like this to help amplify the voices that need to be heard right now. Maybe you know of an opportunity? Please email me using the Contact Us form. I'm also going to keep posting some tidbits of hope on my social media channels to help inspire and heal us all so we can stay nourished while we fight for justice.
And finally, I'm going to keep doing my usual photography work (portraits for pets and humans, headshots, events), plus selling prints and postcards, and will be donating a significant portion of my revenues for the summer months to justice-focused nonprofits, including my local food pantry. If you're in a position to support those efforts by hiring me or purchasing some artwork or a puzzle, I can provide more information via email.
On the subject of photographers for hire, I would also like to give a shout out to my friend and fellow photographer Meka Hemmons at Spider Meka Photography. If you're looking for portraits or headshots in a gorgeous *studio* setting, she is most definitely your gal.